Name: Chris Succo
Geburtsort: Düsseldorf
Nach dem Klingeln an der Studiotür von Chris Succo rollt sich das silberne Garagentor mechanisch nach oben. Dahinter erscheint ein Mann mit verwuschelten blonden Haaren, ganz in schwarz gekleidet in einem Sweater mit Bandlogo. Nach der Begrüßung gehen wir an einem ebenfalls schwarzen Mini Cooper vorbei durch die Garage in sein Studio mit der roten Couch. Ein Thrasher Magazin liegt auf seinem Tisch, daneben eine Schuhschachtel von Vans, ein paar Skateboards, Gitarren und Bücherstapel sind auf dem Boden verteilt und mitten in dem ästhetisch ansprechenden Chaos findet sich ein Organizer von Smythson. "Ob du es glaubst oder nicht: Ein großer Teil meiner täglichen Arbeit involviert ziemlich ordinäre Tätigkeiten wie Katalogisierung und Archivierung", sagt Chris Succo lachend.
>> Please scroll down for English version <<
Succo, der international bereits unter anderem in New York, London und Los Angeles ausgestellt hat, ist einer von Deutschlands vielversprechendsten Künstlern. Seine bisher begehrteste Arbeitsserie ist unter dem Titel  'White Paintings' bekannt und besteht aus einer aufgesprühten Lackschicht und Ölfarbe, unter der Spuren anderer Farben hervorscheinen. Einflussreiche Sammler und MoMA Trustees kaufen seine Kunst und die Wartelisten sind lang. "Eine Menge Dinge fließen in eine Arbeit ein. Vieles passiert zwischen den Zeilen," erklärt Succo.
Kunst ist nicht die einzige Leidenschaft von Chris Succo. 'The Price You Pay For Not Being Alone With Your Dying' ist der Titel seines ersten Gedichtbandes, den er gemeinsam mit Freund und Autor Paul Wassermann herausgebracht hat. Die beiden lernten sich 2009 in London kennen: "Ich habe Lieder und Texte für die Bands geschrieben, in denen ich gespielt habe, aber ich habe nie die Direktheit erreicht, die ich wollte. Es ist  spannend, wie wir zusammen diese Form von Unmittelbarkeit erreichen — fast wie beim Proben mit einer Band. Es ist so eine Art Collage-Technik. Wir diskutieren über Handlungen und Sätze, so entsteht eine Atmosphäre und die wiederum gibt dann vor, wie das Stück, an dem wir arbeiten, sich entwickelt. Einige der Gedichte sind fast romantisch, andere eher härter. Mann muss sie mit einer gewissen geistigen Offenheit lesen." Die erste Ausgabe des Buches, das in einer Auflage von 300 Stück erschienen ist, ist fast ausverkauft.
Fünf Jahre arbeiteten sie an dem Buch, jetzt sind sie mit Nummer zwei beschäftigt. "Ich bin nicht besonders gut darin, mit anderen zusammenzuarbeiten, und Paul geht es da ähnlich. Wir sind beide immer noch überrascht, dass unsere Zusammenarbeit dennoch so gut funktioniert. Außerdem hilft es uns, unsere jeweiligen Arbeitsprozesse zu verfeinern." Zum Beispiel sind die meisten Titel seiner Gemälde, wie 'Don't Let the Empty Cases Of Beer Fool You' aus dem Buch übernommen. Auch seine Liebe zur Musik bildet weiterhin eine Quelle seines Schaffens. Gerade befindet er sich im Prozess, zum aktiven Performen zurückzukehren und eine neue Band sowie ein Plattenlabel zu gründen.
Succos Show 'Skin N' Bones' wurde Anfang des Jahres in der Londoner Almine Rech Gallery eröffnet. Darin zeigen sich erste narrative Ansätze in seiner Arbeit. Schwarze Linien nehmen Form an: ein Nachmittag im Gun Club in L.A. oder ein sonniger Morgen im Chateau Marmont—überarbeitete Skizzen von Orten und Menschen, die er auf einer seiner letzten Arbeitsreisen nach Los Angeles gesammelt hat. Alex Bacon zog im Begleittext zu der Ausstellung Parallelen zu Maler Philip Guston, der seine Karriere mit abstrakter Kunst begann und dann zu einem figurativeren Stil wechselte. Chris Succos Werk befindet sich aktuell an einem ähnlichen Scheideweg. "In dieser neuen Werkreihe hat Succo das Potential für eine Weiterentwicklung gefunden, die ihm in den engen Grenzen seiner vorherigen Serien versperrt blieb, sowohl abstrakt als auch figurativ. Daher ist diese Ausstellung als eine Ankündigung von etwas zu betrachten, dessen Ausgang noch offen ist", so Bacon weiter.
Was Succo zum Zeitpunkt unseres Treffens für die Art Cologne vorbereitet unterstreicht den mutigen Schritt in der Entwicklung seines Werks: "Die neuen Arbeiten verlassen sich nicht nur auf ästhetische Möglichkeiten. Sie sind konkreter, eine neue Frage", sagt er und lacht. "Man muss alles vergessen. Der Gedanke an Erfolg existiert im Studio nicht. Ich bin froh, solange ich arbeiten kann."
Succo wird von Almine Rech in London, Brüssel, New York und Paris, sowie von The Journal Gallery in New York repräsentiert. Er arbeitet aktuell an einem ausführlichen Bildband über die Entwicklung seiner Arbeit zwischen 2008 und 2016, der ebenso Fotografien aus seinem Archiv beinhalten wird und im September beim Distanz Verlag erscheint: "Es wird eher ein Künstlerbuch als ein Werksverzeichnis, sagt er. "Es wird ein tiefer Einblick in meine bisherige Arbeit."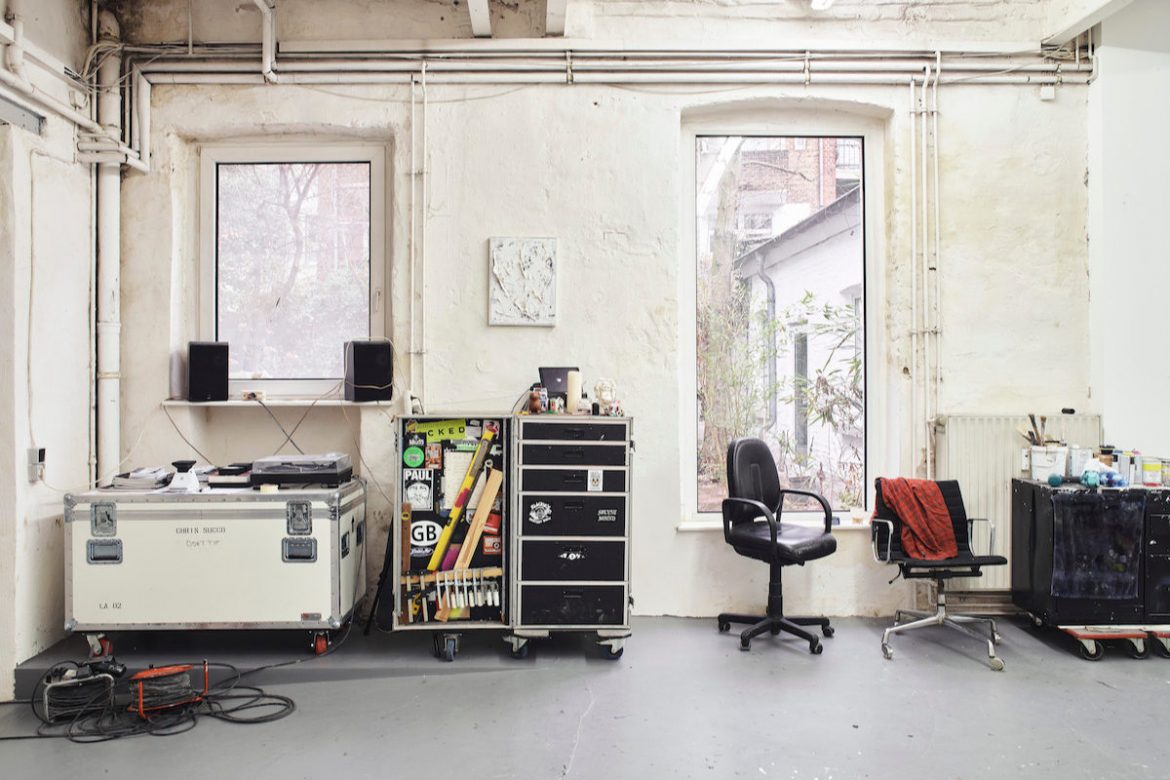 MORGENS
Guten Morgen – wo trinkst du morgens Deinen Espresso in der Stadt, um wach zu werden? Im Studio.
Zum Sonntags-Brunch und ausgedehnten Frühstück trifft man dich… Brunch: Ohme Jupp, Ratinger Straße.
Frühstück: Zicke Den besten Kaffee gibt es… Kaffeeschmiede in Oberkassel
MITTAGS
Lecker, gesund und frisch lunchen gehst du in Düsseldorf… Akropolis, Dominikaner Straße
NACHMITTAGS
Deine Lieblingsroute zum Spazierengehen, Schlendern, Kopf-Frei-Kriegen: Auf der Rennbahn in Grafenberg. Oder am Rhein entlang auf der Oberkasseler Seite.
Drei Plätze in Düsseldorf, die du deinen Gästen unbedingt zeigen musst: Die Brauerein und Museen.
Zum Kaffeeklatsch mit Küchlein & Co. trifft man dich hier: Oma Erika oder Heinemann
ABENDS
Wo verbringst du am allerliebsten einen gemütlichen Abend mit Freunden oder der Familie? Brasserie Hülsmann, Pegasus oder Hot La Cucina.
Welches Restaurant repräsentiert für dich am meisten den typisch-charakteristischen Geschmack von Düsseldorf? Schumacher und Füchschen.
Ein Restaurant, wo du immer mal hinwolltest, aber noch nie warst: Ashley's Garden.
Dein absoluter Gastro-Geheimtipp-Lieblings-Spot, den du hier mit allen teilen möchtest? Bistro Fatal.
Dein Lieblings-Altbier: Uerige frisch vom Fass.
NACHTS
Deine Lieblingsbar oder Dein Lieblingsbartender sind: Alle im Paul's, Sassafras und Tannenbaum
IMMER
Wo und wann fühlst du dich wie ein "richtiger Düsseldorfer"? Beim Zweite-Reihe-Parken vorm Schumacher, um ein kaltes Bier zu trinken.
Was vermisst du an der Stadt, wenn du nicht in Düsseldorf bist? Das Zweite-Reihe-Parken vorm Schumacher, um ein kaltes Bier zu trinken.
Könnte man Düsseldorf essen, schmeckt es nach… Mettbrötchen.
Was liebst du am meisten an Düsseldorf? Den Flughafen. Düsseldorf ist großartig zum Arbeiten.
STIL
Deine Top 3 Shopping-Adressen in Düsseldorf? Hitsville Records, A&O Medien und Robert Schmitz Berufsbekleidung.
Gibt es (einen) Düsseldorfer Künstler, den du besonders schätzt und wenn ja, warum? Ich schätze alle!
Nach welchen Regeln stylst du dich? Was geht gut und was geht gar nicht? Jeans, T-Shirt, Sneakers.
ALLGEMEIN
Dein Lieblingsreiseziel ist? Wo immer mich die Arbeit hinbringt!
Welches Buch liegt aktuell auf dem Nachttisch? 'Die Toten' von Christian Kracht.
Welchen Kinofilm hast du zuletzt gesehen? One more Time with Feeling, die Nick Cave Dokumentation
Aktuell läuft auf deiner Playlist/deinem Plattenspieler? 'Time fades away' von Neil Young und das neue Iggy Pop Album 'Live At the Royal Albert Hall'.
Dein All-Time-Favorite-Song? Heute ist es "Have Love Will Travel" von Tom Petty.
Danke!

Text & Interview: Barbara Russ
Fotos: Robert Eikelpoth
Produktion: David Holtkamp
© THE DORF 2017
English version:
Name: Chris Succo
Place of birth: Düsseldorf
Don't let the empty cases of beer fool you
A visit in Chris Succo's studio: The silver-grey roll-up door is being lifted after ringing Chris Succo Studio's doorbell. Behind the shutter appears a man with messy blond hair, all dressed in black and a band sweater. We walk past a black Mini and a storage area towards the main studio with its red couch. A Thrasher magazine lies
on the table, there's also a box of Vans sneakers, a couple of skateboards, guitars, stacks of books and, surprisingly, a few boxes of Smythson stationery. "A lot of the daily work is, believe it or not, ordinary office stuff like cataloguing and archiving", he laughs.
Succo, who has shown internationally in New York, London and Los Angeles, is one of Germany's leading emerging painters. His most coveted series of works, known simply as the 'White Paintings' have a spray-painted layer
of lacquer underneath layers of white oil paint that allow for hints of color to shine through. Major collectors and MoMA trustees are buying his work and the waiting lists are long. "There are lots of things that go into a painting. It's comparable to poetry. A lot is going on in between the lines," Succo explains. Speaking of poetry; Art is not Chris Succo's only activity.
The Price You Pay For Not Being Alone With Your Dying
is the title of the poetry collection he co-authored with his writer-friend Paul Wassermann. The two met in London in 2009: "I used to write songs and lyrics for the bands I played in, but I never reached the level of rawness that I wanted. It's curious how the two of us achieve this level of immediateness — it's like jamming with a band. It's kind of a collage technique. We discuss story lines and sentences, and then an attitude develops that shapes the piece we're working on. Some of the poems are romantic; others are quite harsh. You have to read them with an open mind." The first edition of 300 copies is nearly sold out.
The new work is not relying on aesthetic possibilities. It's more revealing, it's a new question.
They worked on the book for five years, they're working on number two now: "I'm not a collaborator and Paul usually works on his own as well. We are both still surprised that it works out so well. We both feel it refines how we go about our respective work." For instance, most of the titles of his paintings like Don't Let the Empty Cases Of Beer Fool You are actually sourced from the book. Another of his main interests is music and he is in the process of returning to performing, currently founding a new band and a record label. Succo's latest exhibition 'Skin N' Bones' opened at London's Almine Rech Gallery earlier this year. With it, he has started to shift his practice towards a more narrative style.
Black lines take the form of an afternoon at L.A.'s Gun Club or sunny morning at Chateau Marmont — memories of places and people he remembers from his recent work stay in L.A. and his travels. Alex Bacon, in the accompanying text to 'Skin N' Bones', draws up a comparison to painter Philip Guston, who started out by creating abstract art and then shifted to a more figurative mode. Chris Succo's work is currently at a similar crossroads. 'Skin N' Bones' continues his quest into more narrative motifs. "In this new body of work Succo has found the potential for evolution, which was foreclosed in the necessarily circumscribed nature of his earlier series, both abstract and figurative. As such we view this exhibition from the perspective of being at the dawn of something, the ultimate conclusions of which are left open", Bacon writes.
What Succo is preparing for Art Cologne at the time of this interview also affirms this bold move in his oeuvre: "The new work is not relying on aesthetic possi- bilities. It's more revealing, it's a new question", he says, and laughs. "You have to forget everything. The thought of being successful does not exist in the studio. I'm happy as long as I can keep on working".
Succo is represented by Almine Rech in London, Brussels, New York and Paris, as well as The Journal Gallery in New York. He is currently working on an artist's book featuring an overview of his work from about 2008 – 2016 as well as photographs from his archive: "It's going to be more of a book-like zine rather than a catalogue raisonné or any- thing like that", he says. "It's going to give you a good impression of what I've been making up to this point".
IN THE MORNING
Good Morning! Where are you drinking your espresso in the morning? In the studio
For a Sunday brunch or breakfast we will meet you at Brunch: At Ohme Jupp, Ratinger Straße. Breakfast: Zicke
The best coffee in town has… Kaffeeschmiede in Oberkassel
AT NOON
For a tasty, healthy & fresh lunch we meet you at… Akropolis, Dominikaner Straße
IN THE AFTERNOON
Your favorite route for a walk? Walking around the racetrack in Grafenberg. Or along the Rhine on the Oberkassel side.
The places in Düsseldorf you have to show your guests: The breweries and the museums.
Your favorite place for coffee & cake? Oma Erika or Heinemann
IN THE EVENING
Where do you spend a cosy evening with family or friends? Brasserie Hülsmann, Pegasus or Hot La Cucina.
Which restaurants represents for you the most caracteristic taste of Düsseldorf? Schumacher and Füchschen.
A restaurant you have never been, but always wanted to go? Ashley's Garden.
Your personal top secret food spot you would like to share with our readers? Bistro Fatal.
Your favorite Altbier? Uerige fresh from the barrel
AT NIGHT
Your favorite bar or bartender? Everyone at Paul's, Sassafras and Tannenbaum
ALWAYS
When and where you feel like a real Düsseldorfer? When double-parking in front of Schumacher brewery to get a crate of cold beer.
What are you missing most when you are not in town? Double-parking in front of Schumacher brewery to get a crate of cold beer.
If you could eat Düsseldorf, it would taste like… Mettbrötchen.
What do you love most about Düsseldorf? The airport. It´s a great city to work in.
STYLE
Your top-3 addresses for shopping? Hitsville Records, A&O Medien and Robert Schmitz Berufsbekleidung.
Is there an artist in Düsseldorf you appreciate and why? All of them.
Describe your personal style. Jeans, T-shirt, sneakers.
GENERAL
Your favorite travel destination? Wherever the work takes me.
Which book are you currently reading? 'Die Toten' by Christian Kracht.
Which movie have you recently seen? One more time with feeling, the Nick Cave documentary.
Which record is currently running on your record player / playlist? 'Time fades away' by Neil Young and the new Iggy Pop Album 'Live At the Royal Albert Hall'.
Your all-time-favorite-song? Today it´s "Have Love Will Travel" by Tom Petty.
Thank you!
THE DORF • THE MAG is part of the #urbanana project by Tourismus NRW