Name: Philipp Westerbarkei
Age: 31
Place of residence: Düsseldorf
Place of birth: Verl (NRW)

*** Hier geht es zu deutschen Version des Beitrags / Click here for the German version of the article ***
Opera re-imagined
A cold wind whistles as the minibus arrives at the grounds of the rehearsal stage of the Deutsche Oper am Rhein in Duisburg. Voices, laughter and lively hustle and bustle can be heard. One of them catches your eye immediately because of his physical presence: Philipp Westerbarkei. We meet him this Saturday in Duisburg to talk about his current production, "Roméo et Juliette" by Charles Gounod, which is currently in rehearsals. A conversation about the power of feelings, the topicality of opera and the Simpsons. And a didactic play about the fact that if you want to understand opera, you have to grasp it with all your senses. But let's start at the beginning.
It all began during his violin lessons. One day Westerbarkei's violin teacher at the time said to him that he was crazy enough for opera and took him to an opera rehearsal at the Theater Bielefeld. She probably had no idea what this would set in motion. Prior to this experience he was not entirely sure which way he was headed professionally, but from then on there was only one way forward. OPERA, OPERA AND OPERA AGAIN!
And not just any opera. No, he had specific ideas there too: "In two years," he declared, as a student, to his fellow students during a visit to the Deutsche Oper am Rhein, "In two years I will be working here. And two years later he had arrived. "It's totally absurd," he sums it up in retrospect.
But anyone who knows Philipp Westerbarkei knows that he is not a dreamer. With hard work and commitment, he ploughed through the opera business and developed his craft: he worked in almost all departments, which was a great way to learn for him. An unusual career path – made possible by a set up in which he could grow and develop. The trust he gained in the process gave him the freedom to shape his own career. First on a small scale and today with "Romeo and Juliet" on a grand scale. Over the last nine years he has continuously grown through the experience he has gained in this house. Bit by bit.
This principle of achieving success with determination and perseverance can also be seen in Westerbarkei's work as a director, for example during rehearsals. He acts, jumps up, crosses through the whole room: Within a minute, he switches from being the director, to the role of the actor, the mediator and the narrator. And this with a perceptible physical intensity. Dynamism, energy, impulsiveness are the terms that best describe his physicality in the literal sense of the word. He is completely present, with body and soul. His work moves him, is free of constraints, it gives itself completely to movement. Music is a kinetic force that drives him into physical movement and moves him inwardly. It is this movement that is a recurrent theme within his work. A work that has made it its goal to establish a real contact with the audience. "We have to reach the audience!"
A general attitude that is shaped by a genuine interest in our counterpart, its attitudes and feelings are central to his work. This sometimes also means finding a new language. For example, Westerbarkei only reluctantly allows himself to be called a director, an aversion that he attributes to the origin of the word "to direct", a notion that he resists. Despite all the stringency in his vita, he understands the artistic process as open and dialogical. On the one hand, there is the exchange between him and the singers, actors and actors. But there is also the dialogue with the audience, which is always present as a yard stick by which the success of opera as an art form must be measured. Productions need a clear line, a recognisable style. But also, one with which the audience can connect. Especially in opera.
I am always driven by the desire to create truthful images.
Why opera in particular? For Philipp this is obvious: "Opera can do everything, opera is everything, opera is life. Above all. However, many people are not aware of this, opera is considered an elitist project. Younger generations in particular often think that opera is not for them. It is this alienation of the stage from real life that disturbs him. He tackles this with the offering of projection surfaces. "I ask questions that everyone knows from everyday life," he describes his approach. And indeed, a glance at the programme reveals that timeless feelings such as love, hatred and jealousy are omnipresent. People like you and me, as Westerbarkei puts it, experience ups and downs. To follow them, to rejoice with them and to mourn and suffer with them, this can be achieved by a well-made opera. Opera is daily life and its 400-year-old themes are as relevant now as they were then.
High culture can only be nurtured if the foundation is right, and it may also begin with the Simpsons.
But what does the "Daily Life" of a man look like who wants to popularise opera so drastically? Is he a workaholic who only thinks of his work 24/7 ? Westerbarkei winks. "Every now and then there is a day in bed. Properly with pizza and ice cream. Or I go for a walk, out into nature. Completely without a destination," he says. Then it could happen that he suddenly finds himself, opera music on his ears, in the no man's land of an industrial area in Neuss. He needs this time out to recharge his batteries and become open to new inspiration. Inspiration that he also draws from photography, films or Netflix series and thus from media that plays a role in the everyday lives of many people. In this way, he remains authentic in his efforts to make opera more accessible, for example when it comes to simplifying its often very artificial language. He is sure that only then opera as an art form will still have a future in his generation.
A future that his production of "Roméo et Juliette" also gives form to. Westerbarkei reports of the difficulties involved in dealing with a classic and supposedly well-known subject. It is as if Shakespeare had "virtually gone through the best-off supermarket", when he created "Romeo and Juliet" – this perfect tragedy, this myth. This over-expression made it difficult to approach the piece as long as he thought in the dimensions of a classic adaptation. He first had to leave the familiar paths in order to find an access: "I noticed: If I stick too close to the balcony, then I fall from the balcony, so to speak. That's why it quickly became clear to me that I would choose a different approach, a different way of doing something true.
"I love, therefore I am. That was my guiding principle from which I built this world." Existential questions inevitably arose. What does it mean if you don't love? Does one not exist then? What is myth in this tragedy and how close is it to reality? In essence, it is about a forbidden love, about human feelings. As long as there are people, there are these feelings and they are always universal in every language, at every time and in every place of the world.
What exactly the audience can expect is not revealed at this point. Just this much: You can look forward to visual, acoustic and emotional fireworks. "There will be a bang. And some firecrackers will also backfire…", teases Westerbarkei with a much telling smile. By now I have understood: The young director is not interested in provocation. What drives him is rather the attempt to find a contemporary language for a centuries-old art form that reinforces the connection between the opera and its audience. It seems that every generation develops its own taste, a different habit of seeing, ideally gains a visible audience, feels the tests of its time and brings them on stage with their own panache. The young savages. It's time – for them.
"Roméo et Juliette" by Charles Gounod
From 30 March – 26 May 2019 at the Deutschen Oper am Rhein
Production: Philipp Westerbarkei
Duration: approx. 3 hours, one break
In French language with German surtitles
MORNING
Good morning – where in town do you drink your espresso in the morning to wake up? At home – nothing works without the first espresso in the morning!
AFTERNOON
Your favourite route for a walk, stroll or clearing your head: along the Rhine leaving the city behind. And the Grafenberger Wald.
Three places in Düsseldorf that you absolutely have to show your visitors: The opera house, of course, the Kö and the Rhine, but also everything else in between and all around!
For coffee, cakes & co you go to: Poccino at the Kö Bogen. You can go there quickly between rehearsals!
EVENING
Where do you prefer to spend a cosy evening with friends or family? …in one of the many restaurants in Düsseldorf!
NIGHT TIME
Your favourite bar or your favourite tender: The Melody Bar is definitely one of them…
ALWAYS
What do you miss about the city when you're not in Düsseldorf? The short distances and the many possibilities!
What do you love most about Düsseldorf? After some Altbier a quick trip to Little Tokyo with a stopover for paella, pizza and kebab… Between trivial and high culture – it's all there!
Are there places in the city that inspire you in your job? Just walk around and keep your eyes open – there's always something new to discover!
STYLE
The best place to watch people? Definitely the Kö… pure theatre!
IN GENERAL
What's your favourite food? Pizza!!!
Where or what is the best place to relax? Food and television – quite trivial! But also out in nature!
Your favourite destination is? Unfortunately a cliché, but yes …Bella Italia!
Which book is currently on your bedside table? Too many that want to be read! Among others "Paris – a feast for life" by Ernest Hemingway
What was the last movie you saw? "The Favourite"
What is currently on your playlist/record player? Mostly the opera I'm currently working on – therefore at the moment "Roméo et Juliette" by Charles Gounod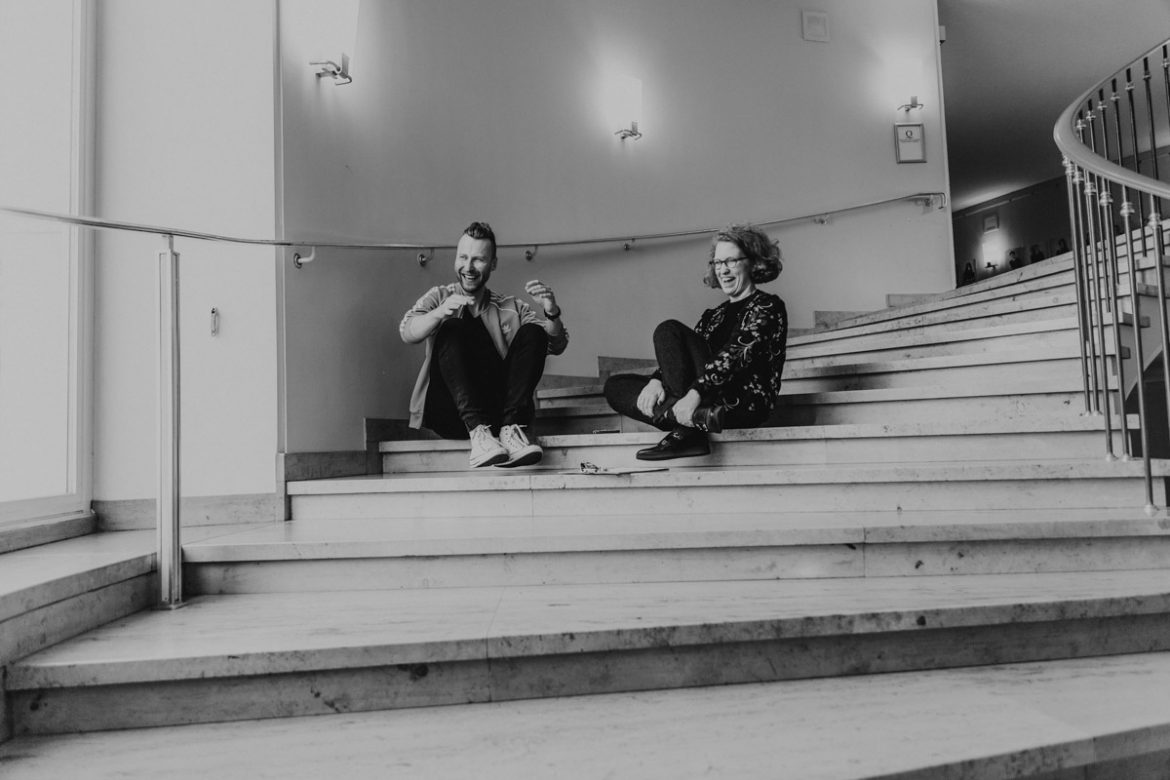 Thank you very much!
Text & interview: Theresa Naomi Hund
Photos: Kristina Fendesack
Production: David Holtkamp
© THE DORF 2019
This story was brought to you in collaboration with #urbanana #visitnrw
Co-funded by: