Wow. One year went by so fast and here we are with the second issue of THE DORF · THE MAG. No. 1 has experienced a lot in the last year – it has made many new friends, both in Düsseldorf, as well as internationally. It went on trips all around the globe, was in Japan, at the book fair in Frankfurt and Berlin Travel Festival.
We are happy to be part of the #urbanana project again this year. Current news and stories are still published as usual in the online magazine. You can find almost all stories from this print issue here – with even more photos, content and tips from the protagonists.
With issue No. 2, we would like to show you the colorful and diverse faces of Düsseldorf again. In the address part, our small Düsseldorf guide, some addresses and spots have been added. We have also included a few new categories and, for example, introduce you to the best places to shop for children. Some addresses have been dropped because they no longer exist. As it happens, the city is in constant change.
Same procedure as every year: Our editorial team only presents what it likes and has tried and tested personally. By friends for friends; the selection of recommendations is handpicked and by no means exhaustive. Highlights, insider tips and little treasures, in summary: products, culture, restaurants, style, places, projects, people and experiences, straight out of THE DORF.
We see the magazine as a snapshot of contemporary, local culture. We deliberately avoid committing to any style because we love strong contrasts. A bit brash, a bit posh: we believe the fun is in the mix. Everything else would be boring.
We are looking forward to meeting you in THE DORF. Online or offline.
Enjoy reading THE DORF · THE MAG.
Yours,
David Holtkamp & Tina Husemann
(Founders of THE DORF )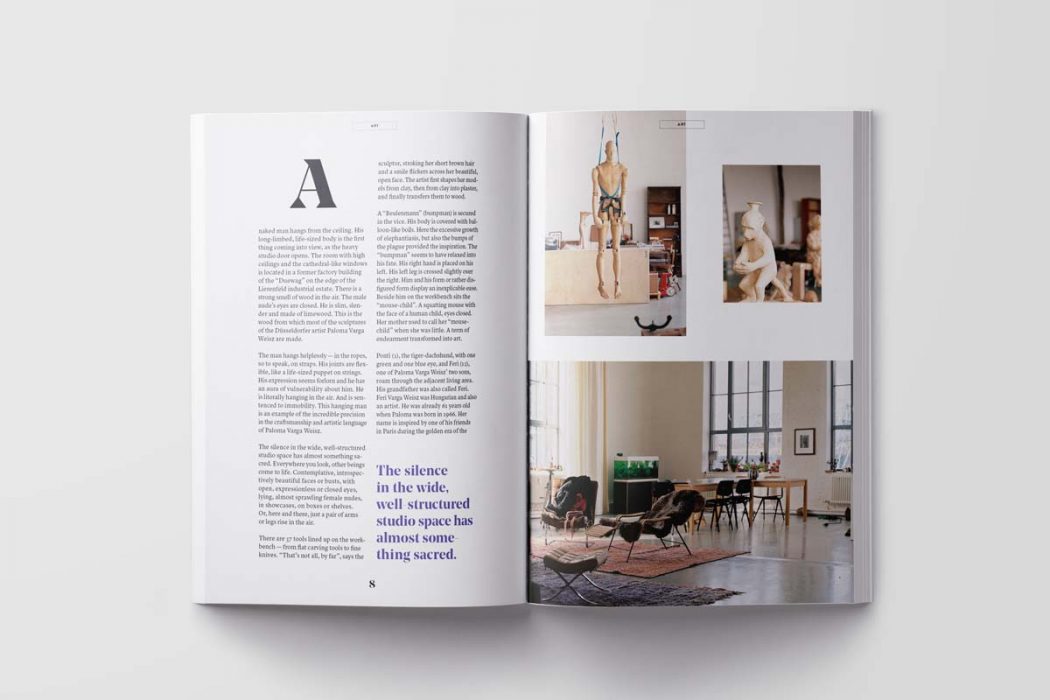 Get it now!
THE DORF • THE MAG is available at all tourist information points in the city, as well as in selected Dusseldorf stores, hotels, restaurants and cafés – and by the way, for free! So, shoo! Here you can find out, where exactly you get your copy.
Tourist information points
Tourist-Information Hauptbahnhof, Immermannstraße 65 b, Stadtmitte
Tourist-Information Altstadt, Marktstraße/Ecke Rheinstraße, Altstadt
Order online
As part of the #urbanana project, the magazine is supported by Tourismus NRW e.V.. It's available bundled for the destinations of Cologne, Dusseldorf and the Ruhr area, distributed throughout North Rhine Westphalia and Europe. You can order the bundle online from June 18th on here… 
Read online
Read it online here … 
List of selected
Shops, Hotels, Restaurants & Cafés
From June 4th on, you will find the mag at selected shops, hotels, restaurants & cafés in town. The complete list will be published here on June 4th.
THE DORF • THE MAG is part of the #urbanana project by Tourismus NRW and was co-funded by