Name: alice eikelpoth
Age: 35
Professional education:
master of fine arts
*** Hier geht es zu deutschen Version des Beitrags / Click here for the German version of the article ***
'please excuse my many spelling mistakes in the interview, the keyboard of my laptop is broken and i can't use capital letters nor question or exclamation marks, haha…sorry', writes Alice Eikelpoth when sending her questionnaire back. An endearing statement, particularly at a time when things –and often people- are immediately written off or replaced when making the smallest mistakes. today everything and everybody has to function perfectly. Artists are one of the few exceptions, they enjoy a certain creative freedom.
That is why we kept the spelling in lower case – Alice's words don't lose their impact by that. On the contrary. Alice Eikelpoth was born in 1982 into a family of artists. Her father, Dieter Eikelpoth, photographed many international celebrities and was a highly-regarded fixture in Düsseldorf. Her brother Robert, who took her portrait, also chose a career as photographer. Alice went her own way artistically and studied Fine Art Painting in Brighton. Her collages often have photographs as a starting point and develop from there.

How would you describe your art? my art comes from within. in my works, i can express experiences and feelings that i can't explain with words. i would describe the exterior of my works as colourful, wild and messy.
You come from a family of arists. Was choosing a different career path ever an option for you? my brother and i had a crazy childhood. my parents travelled extensively and almost always took us along. we were always on the move and experienced our father's job first hand. it was very exciting but somehow normal for us, we didn't know any different. this time has certainly had a big influence on me and i knew early on that i would definitely not end up in an office. however, i also knew i didn't want to be a photographer.
How did you arrive at your particular painting/collage technique? it certainly was my way to rebel against from what i knew growing up. since everybody in my family was or is a photographer -father, mother, grandfather and my brother- i had to find my own language and medium. during my fine art studies in england, a tutor once said to me:' you gotta murder your darlings to find your own language'. with that, he wanted to tell me i should distance myself and find myself, my own way of expression. so i started to de-construct and destroy the images that were very familiar to me. i had discovered the combination of painting and collage technique.
Where do you find inspiration? i find inspiration in almost everything, it doesn't have to be something special, sometimes it simply happens by starting to work on something, without too much thought. new things often develop from there. i don't like to work with too much planning or preparation.
What is beauty? Should/could art be beautiful? art absolutely does not have to be beautiful. i would never describe my art as beautiful.
Was it ever an option for you to leave Düsseldorf? Why did you stay? i lived half of my life in london. it was always my father's dream to live abroad. so when i was 12 years old, we moved from düsseldorf to london. i went to school there and later studied fine art at the university of arts in london. i only came back to düsseldorf with my husband a few years ago…london is too expensive. we are happy here now with our little family and my studio. at the moment it doesn't look like we would leave düsseldorf any time soon, but who knows….
With whom, dead or alive, would you like to have an Altbier in Düsseldorf? with the artist louise bourgeois.
What would you talk about? about our fathers, or the men in our lives in general.
MORNING
Where in town do you drink your first espresso? caffé latte, please, at home…
For a Sunday brunch and a long breakfast you can be found… at home, with an english breakfast cooked by my husband
The best coffee in town is… at covent garden on the bilker allee
LUNCHTIME
Where in Düsseldorf do you enjoy a delicious, healthy and fresh lunch… I never go out for lunch
AFTERNOON
Your favourite route for a walk, stroll or to clear your head: to the südpark, for a quick wave to the pigs
Three places in Düsseldorf that you need to show your visitors: the rhine, the japanese borough and the südpark
For coffee, cake & Co. you can be found here: at my grandma's in lörick
EVENING
Where do you like to spend a relaxed evening with friends or family? at home, my brother's or my mother's
Which restaurant represents the typical and characteristic taste of Düsseldorf ? the victorian (it unfortunately doesn't exist anymore)
A restaurant where you always wanted to go but haven't so far? csikos
Your absolute favourite spot and insider's tip that you would like to share with everybody? amici on the löricker straße
Your favourite Altbier: i don't drink
NIGHTTIME
Your favourite bar or favourite bartender are: k21
Where did you spend a particularly special, memorable night in Düsseldorf? at the zicke
Dance the night away! Your favourite dance haunt: our living room

ALWAYS
Where and when do you feel like a 'proper Düsseldorfer'? … do i ever feel like a proper düsseldorfer?
What do you miss most about the city when you are not in Düsseldorf? i don't miss anything when i am away
If you could eat Düsseldorf what would it taste like? löwensenf
What do you love most about Düsseldorf? that everything you need is within easy reach. and the rhine.
What do you hate the most about Düsseldorf? the famous grey, humid weather
Are there places or locations in the city that you find inspiring for your job? the museums and walter könig
STYLE
Where do you look for & find furniture for your flat? the junk shop on reisholzer straße
Your top three shopping destinations in Düsseldorf? trödelladen, walter könig and robert schmitz (closed)
Is there one Düsseldorf designer or artist you value particularly, and if so, why? harald naegli because his sprayed figures make me smile at a lot of places in düsseldorf, and i always discover new works from him that i didn't know yet
The best place for people watching? you can observe people everywhere
What are your styling rules? What works and what doesn't at all? never follow trends
Describe the typical Düsseldorf style in three words: ugg boots, fur parka and a fancy handbag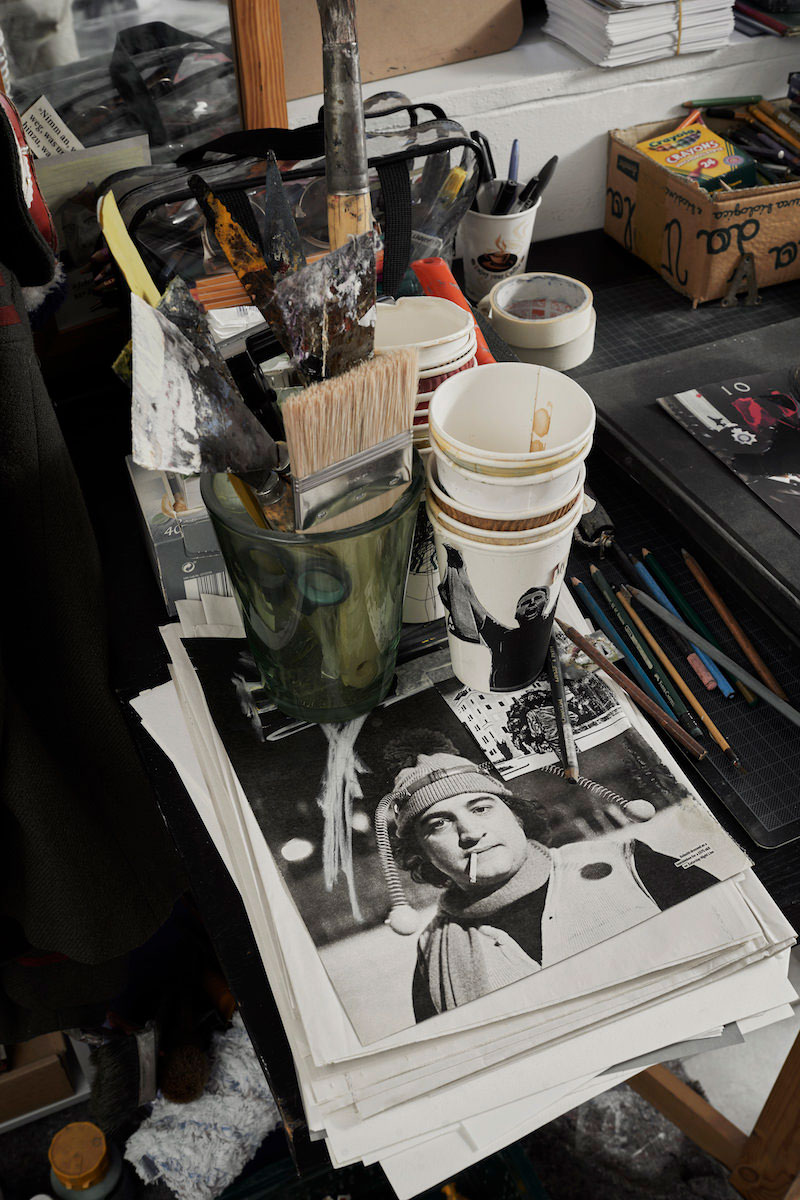 IN GENERAL
What is your favourite dish? spaghetti bolognese
Where and doing what can you best relax? while painting or sleeping
Your favourite travel destination? england and croatia
What book is on your nightstand at the moment? off to bed, little bear
What was the last movie you saw at the cinema? star wars: the force awakens
Your all-time-favourite movie? manhattan by woody allen
What is currently on your playlist/ your record player? elizabeth cotton
Your all-time favourite song? you're so vain by carly simon
What is your favourite club? fulham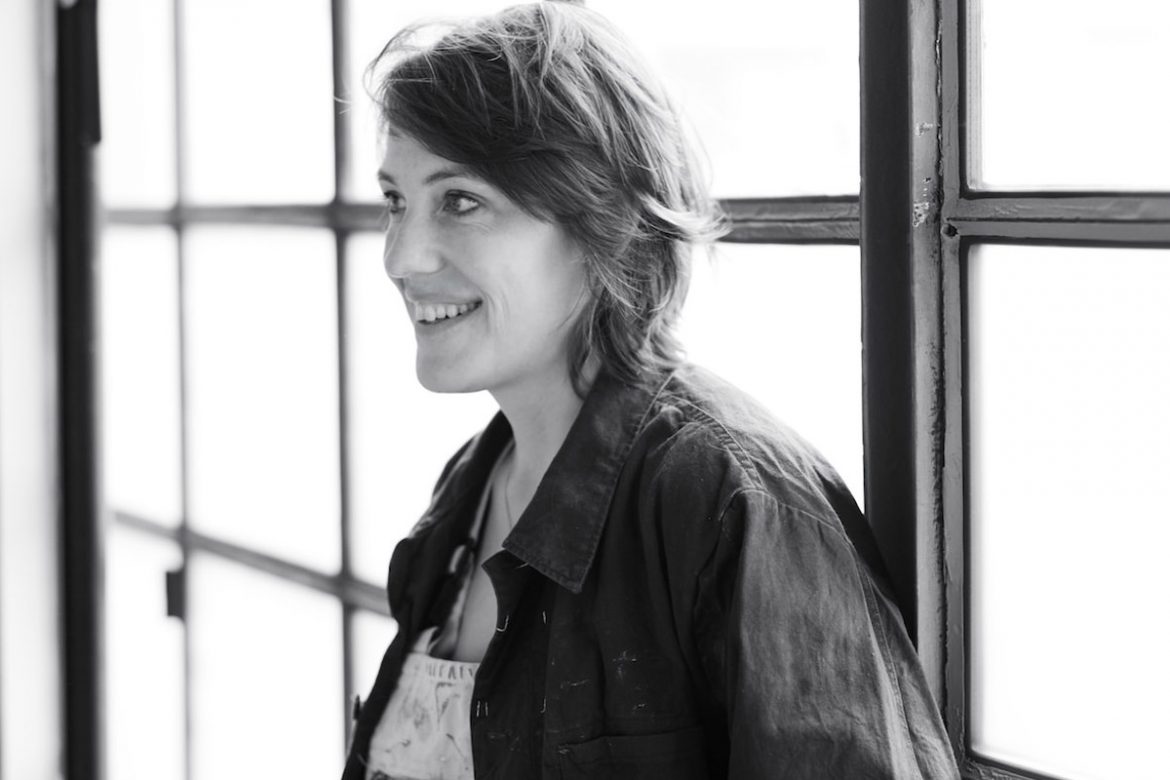 Thank you!
Text & Interview: Barbara Russ
Photography: Robert Eikelpoth
© THE DORF 2018